---
I Am Born In The Year Of The Tiger
05-02-1962 To 31-12-1962

---
1962
The year when prostitution was no longer a crime in Sweden.
(Read more about prostitution at the bottom of this page).

---
JANUARY:
The Beatles make a sample but it's imposed entirely by the record company that believes the band has the wrong "sound".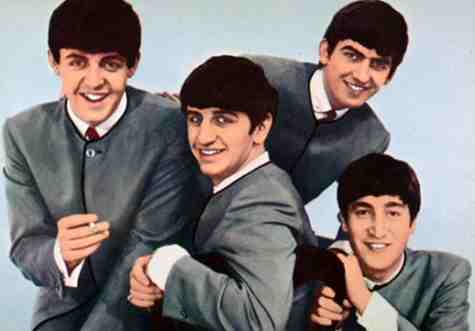 Pic from 1963
More facts about The Beatles:
John Lennon 1940 - 1980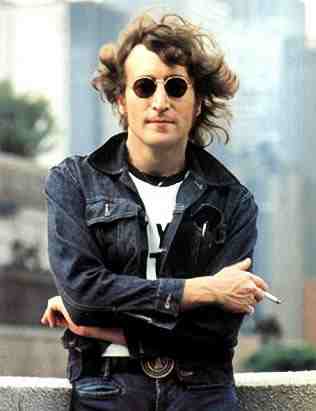 John persuaded his Aunt Mimi to buy a guitar for him. Sure said Mimi, but you will never be able to support yourself to play guitar. She was so wrong. John started his first group The Quarrymen in spring 1956 and it went on good for John Lennon and his Quarrymen. There were gigs at youth clubs, school dances and birthday parties. Ivan Vaughan, who played in the Quarrymen announced one day for John after a party, a friend named Paul McCartney, who was skilled at playing the guitar. But what impressed John most was that Paul could tune a guitar, for it was an art that no one could in The Quarrymen. So Paul joined The Quarrymen. 1957 presented Paul, George Harrison, to John and George joined the band and later also Ringo Starr - The Beatles were a fact. John and Paul came to write the biggest hits and Lennon - McCartney became a household word in the musical world and made history. 1970 gave John Lennon his best song as a solo artist - Imagine - a song about peace and love. 1980, John was shot down in New York by Mark Chapman and died of his injuries. The whole world mourned John Lennon, a front man for peace and love - "War Is Over If You Want It" and "Give Peace A Chance" relevant today as peace songs.
Paul McCartney 1942 -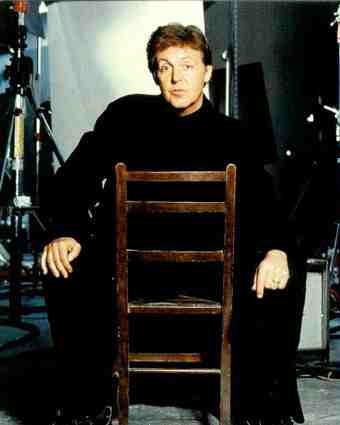 Paul McCartney was raised with music in the home because his father had a jazz band. He persuaded his father to buy a guitar and he then got a used guitar that cost £ 15. Paul listened to the records and the radio as often as he could and his favorites were Elvis, Little Richard and American rock & roll. He met John Lennon in 1957 who was very impressed that he could tune a guitar, so he joined John's band The Quarrymen. Paul was later to play bass guitar and did Hohner violin bass famous. He also wrote most of the songs with John Lennon and the Lennon - McCartney became a household word in the musical world. No composer-cooperation has been so successful that just Lennon - McCartney and the Beatles became famous worldwide for their great songs, which was a new breath of fresh air on the turntable. Paul was also known as The Babyface - Beatle. Towards the end of the Beatles split, it was Paul who tried to hold together the Beatles, but 1970 was the end to an amazing story: The Beatles were completed as a group. For all Beatles fans, this was a tragic event that no one could take. But all the fans around the world got their music anyway - for now began their solo careers. Above all, Paul has produced album after album of great music, and still continues.

George Harrison 1943 - 2001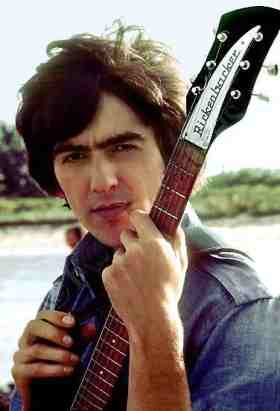 George Harrison was helped by her mother to play the guitar and learned a lot from her as himself liked the music. He was often joined by Paul McCartney on the bus to and from school. He attended a few classes in Paul and in the autumn of 1957 he had come and hear when The Quarrymen were practicing. He played Raunchy for John and he played better and faster than any of the Quarrymen. But John thought that George was a kid and he did not take seriously. But when any of guitarists in the group got sick got George to jump in as a reserve and play, and finally he joined The Quarrymen. They were allowed to train at home with George and his parents did not care that the whole house shook when they played. As soon as John and George had enough money they bought themselves electric guitars. George was the taciturn of the Beatles and did not have much to say because it was mostly John and Paul, who ran and stood in the Beatles. It was they who wrote most of the group's songs. George also wrote his own songs, but were often difficult to get as many songs on the album The Beatles released. He went and learned to play the sitar by Ravi Shankar and the Beatles' Rubber Soul album you can hear George play the sitar on Norwegian Wood, which became a popular song. When the Beatles broke up in 1970 George began his solo career and he started Dark Horse Records, his own label where he released many memorable songs. George passed away in 2001, after a long battle with cancer.
Ringo Starr 1940 -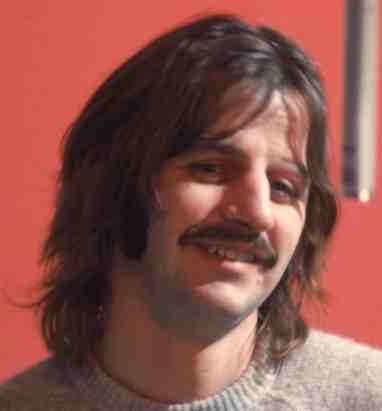 Ringo Starr played drums in various local bands around Liverpool and made his name as a talented drummer, who could jump in at any time when it was needed. Ringo was the last member who joined the Beatles and this was just when the Beatles were recording "Love Me Do 1962. When Ringo came up with was The Beatles completed as a group and it was now everything is rolled on to The Beatles. Ringo had a sad expression, but he was the one who was the most fun and joked, often when with John Lennon, who was also skilled at spex. Ringo did not write or sing so many songs, that was taken care of John and Paul. Ringo did what he was best at, playing the drums. He sang the song Yellow Submarine from the album Revolver, which became very popular. The latter was also the leitmotiv of the animated feature film of the same name: Yellow Submarine, with John, Paul, George and Ringo as the main characters. When The Beatles broke up Ringo recorded records and starred in a series of films. He also had his All Star Band with a series of various famous musicians he toured with and were a hit.
---
FEBRUARY:
First American in space becomes lieutenant colonel John Herschel Glenn Jr., born 18th of July 1921- in Cambridge, Ohio USA.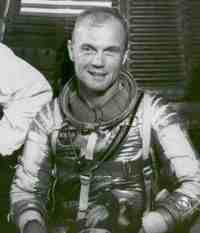 More facts about the event:
Now finally came time to launch a man into space. It was lieutenant colonel John Glenn, and his three laps around the world in space February 20, 1962 marked an important stage for the American space travel. After waiting on the launch pad in 3 hours and 44 minutes in the Friendship 7-cabin due to a series of "technical difficulties" started Glenn 9:47 a.m. EST. Atlas-D spacecraft flew as calculated over the Atlantic and 10:00 came the confirmation that the spacecraft had gone into orbit. Everything went well the first lap, Friendship 7, completed his first lap at 11:21 with an average speed of 28 100 km / hr. At 11:28 announced Glenn that he had difficulty with the automatic attitude control system. capsule veered slowly to the right by about one degree per second. Even had the major problems not encountered when, Glenn was on the third lap the ground station at Muchea (Australia) snapped up a telemetrisignal which showed that the cabin heat shield could possibly be loose because of an incorrect switch. The reason to use a removable heat shield was that during these final phases of landing, just before the capsule hanging in his parachute hit the bottom of the sea. Then cut the heat shield 12 dm, involved a perforated collar glass fiber reinforced rubber. This created an air cushion that softened the impact. If the shield came off there was nothing that could prevent the capsule from burning up the ramp. Glenn later described to this terrifying situation at the ramp was nerve-wracking. When the descent began, he heard a thud, and as the heating accelerated began an orange light to be seen outside the cabin window. It soon became clear to Glenn that something was about to break. Glowing scrap pieces of up to 20 centimeters flowing past the window. It was the braking rocket that start to fall into pieces, the landing went well despite the mishap
---
MARCH:
Sweden wins World Ice Hockey Championships in Colorado.

Ice Hockey World Championship 1962 was played in Colorado Springs and Denver in Colorado in the USA in March 1962. Sweden won the tournament, Canada 2nd and the USA on 3rd place. DDR (East Germany) wanted to join the game but was not admitted in the U.S., and then the USSR and Czechoslovakia also choose stay at home. Three Crowns wins against Canada in the World Championship.
1. Sweden
2. Canada
3. USA
4. Finland
5. Norway
6. West Germany
7. Switzerland
8. Great Britain
---
APRIL:
1 april - A classic April Fool carried out on the Swedish television, when people are invited to hang stockings in front of the television screen, to get color TV.
Stockholm's new international airport, Arlanda, is inaugurated.

Arlanda - this is how it started

It was a sunny, cold and windy day when King Gustaf VI Adolf inaugurated Arlanda airport the 1th of April 1962. More than 12 000 people came to celebrate the new major international airport. But there were many days of planning and work prior to opening day. In early 1960 Arlanda opened to public traffic. Over two years later moved the international traffic from Bromma, Stockholm to Arlanda, and in April 1962 was the official opening of the airport.
---
JUNE:
1 June: War crimes and Jews-exterminator Adolf Eichmann was executed in Jerusalem.
More facts about Adolf Eichmann:
Titel: SS-Obersturmbannführer (Lieutenant Colonel in the army)
Lived: 1906 - 1962 (56 years old - executed)

Otto Adolf Eichmann was born in Solingen, Germany the 19th of March 1906 as a son of a successful businessman and industrialist. When he was 8 years old the family moved to Linz, Austria, and his father participated in the First World War. When the war was over, the family moved back to Germany.

Two days after his 29th birthday, he married Vera Liebl and they had four sons: Klaus Eichmann was born in Berlin in 1936, Horst Adolf Eichmann was born in Vienna in 1940, Dieter Helmut Eichmann was born in Prague in 1942 and finally Ricardo Francisco Eichmann was born in Buenos Aires (1955?).

Eichmann started at the Austrian branch of the NSDAP April the 1st, 1932 he was recruited for the SS-candidate. He was accepted as a full SS member and was appointed to the SS men with SS numbers 45326. The next few years he was with the SS and patterned groups from Salzburg, Austria. When Hitler and the Nazis came to power in Germany in 1933, Eichmann returned, and sought to join the active SS-regime. He was accepted and in November 1933 he became Scharführer and admitted to administering the work of the Dachau concentration camp. The following year, he had decided to continue to pursue a career in the SS and requested a transfer to the Security Service (Sicherheitspolizei), which by this time had become a very powerful and feared organization. His transfer was approved and in November 1934, he joined the headquarters in Berlin - at the same time, he was promoted to Oberscharführer. He worked well and was often seen together with his higher commanders. He was promoted to Hauptscharführer 1935 and the SS-Unter Sturmführer 1937.

This last year he was sent to Palestine with his manager, Herbert Hagen to assess the possibility of a massive Jew emigration from Germany to Palestine (now Israel). They landed in Haifa, a seaport in Palestine, but only got to show for the passage so they went to Cairo, Egypt, where they met Feival Polke, an agent of the Haganah (an underground army Jew). They tried to obtain their assistance in facilitating Jewish emigration from Europe.
In Eichmann's recent hearings in the trial, he stated that they also planned to meet Arab leaders in Palestine, but this never happened because British authorities refused to let anyone in Palestine. Afterwards wrote Eichmann and Hagen, a report in which the state economic reasons against a large-scale emigration of Jews from Europe to Palestine. In addition, they indicated that this would run counter to the German policy was to prevent the establishment of a jew state. The episode is sometimes seen as an important step towards the Nazi ban on emigration and the subsequent "solution of the Jewish problem".

1938 Eichmann was sent to Austria to help organize SS Security Forces in Vienna after Austria became a union with Germany. For his work in which he was rewarded by becoming SS Obersturmfuhrer (first lieutenant) and at the end of 1938 he was elected by the SS leadership to the head of an organization that worked with the deportation and expulsion of Jews from Austria.

In 1939 he returned to Berlin after the RSHA (Reich Central Security Office) was formed and in December the same year he was awarded the Chief item in the RSHA department who took care of the "Jewish business" and the evacuation of Jews. In late 1940 he was promoted to SS-Sturmbannführer and less than a year later to Obersturmbannführer.

1942 Reinhard Heydrich ordered Eichmann to attend the Wannsee Conference as a secretary. The meeting discussed how to solve the Jewish question. For the "final solution of the Jewish problem" was Eichmann in to try to solve the transport issue of the Jews. He then became chief of all the trains that brought Jews to death camps in occupied Poland. The next two years, he performed his duties with incredible zeal, and often, he boasted that he personally, through his train, brought more than 5 million Jews to their deaths. After Germany occupied Hungary (1944) he was sent to where he managed to deport 400 000 Hungarian Jews to the gas chambers.

When the war end approached, Heinrich Himmler ordered that the Jewish extermination would be stopped and all evidence of "Final Solution" would be destroyed. Eichmann still continued his career in Hungary until the Russians invaded the country. He returned to Austria but at the end of the war he was captured by the American army, who understood that they caught was one of WWII's major war criminals. He named himself as "Otto Eckmann" and the beginning of 1946 he managed to flee and was then hidden in various places for some years in Germany. 1950, he traveled to Italy under the name "Richardo Klement" in which he managed to get a passport to Argentina. He arrived in Argentina in July 1950 where he lived and worked in various jobs over the next 10 years. 1960 discovered the Israeli "Mossad agents" were he was staying, and in May the same year he was arrested. He was taken to Israel where a trial was held between April-December 1961st He was found guilty of mass murder and human rights violations and sentenced to death by hanging. He was executed a few minutes after midnight on 1 June 1962.


---
AUGUST:
5 August: Moviestar Marilyn Monroe commit suicide at the age of 36
More facts about Marilyn Monroe:
The early years
She was born June 1, 1926 in Los Angeles, as Norma Jeane Mortenson, but the Christian name was Norma Jeane Baker. Her mother was Gladys Pearl Baker, but who the father was unclear. On the birth certificate is Martin Edward Mortenson, Gladys's second husband, but most agree that he was not the girl's biological father, where the couple had separated. It was probably rather salesman Charles Stanley Gifford, a man who left Gladys when she talked about her pregnancy.

The child went to foster parents Wayne and Ida Bolender up to age seven, when his mother took her home. A few years later, Gladys Pearl Baker became mentally ill, as well as both her parents were, and the girl was taken care of by her mother's best friend, Grace, for a few years. When she married in late 1935, Norma Jeane went to an orphanage and as many as twelve different foster homes, where she was subjected to abuse and neglect. In September 1941, Grace took her back and Norma Jeane learning to know the neighbor boy James Dougherty who later become her first husband. She married him in June 19th, 1942, when she was sixteen. Their marriage lasted four years.


The career
Norma Jeane made her career as Marilyn Monroe, as a creation of the film industry. Norma Jeans career began when photographer David Conover discovered her, and August 26, 1946 she wrote her first contract with Twentieth Century Fox. She earned $125 a week and dyed her hair blond and changed his name to Marilyn Monroe, after her grandmother's surname. Her first film role was in the film The Shocking Miss Pilgrim 1947 and it was the movie Niagara in 1953 that made her great and she got hotter roles as Gentlemen Prefer Blondes and How to Marry a Millionaire. Marilyn was Hollywood's darling blonde and everyone wrote about her. On January 14th, 1954 Marilyn got married with baseball player Joe DiMaggio. Marilyn's fame and her status as a sex symbol was a blow to their relationship, and nine months later, on 27 October 1954, they divorced. 1959 Marilyn appeared in Some Like it Hot, which won a Golden Globe for "Best Actress in a Comedy."

June 29th, 1956 Marilyn married her third husband, playwright Arthur Miller. Miller co-wrote some of the film The Misfits in 1961, which was specially written for Marilyn. It was her last completed film. Monroe and Miller's relationship was ending on 20 January 1961. 1962, she received Golden Globe again but now for "Female World Film Favorite". Marilyn made 30 films and left only an unfinished, Something's Got to Give.


Marilyns death
Early on the morning of August 5th, 1962 Marilyn Monroe died in her sleep after an overdose of barbiturates. She died at her home at 12 305 Fifth Helena Drive in Los Angeles district of Brentwood. No one really knows for sure how and why the death occurred. There are theories about the murders linked to the Kennedy family, when John F. Kennedy had just finished an affair with Monroe. Some such theories argue that as the CIA or FBI would be "orderly" Marilyn's death to avoid a compromise of the presidency. Marilyn's death has given rise to widespread myths and speculation. During her outwardly glamorous life, she was often unhappy and suffered from low self-esteem. At the time of her death she was in one of his periods of depression. Coroner Thomas Noguchi believes that the death was most likely suicide. She is buried at Westwood Memorial Park in Los Angeles.
28 August: Swedish destroyers folding depth charges against a foreign submarine in Fårö.
The easternmost point is Fårö lighthouse 30 m high lighthouse Holmudden. Until the nineties, it was forbidden for foreigners to travel to the northern island of Gotland and to Fårö. Large signs on the roadside in several languages informing visitors about this and the rule was checked sharply.
---
OCTOBER:

14 October: Cuban Missile Crisis begins with an American U-2 planes photographing Soviet missile-bearing nuclear weapons in Cuba. Kennedy forced Khrushchev to the retreat of the Cuban Missile Crisis. Cuban Missile Crisis denotes the days in October 1962 when the superpowers the United States and Soviet Union stood on the brink of nuclear war after the Soviet Union placed nuclear weapons in Cuba.
22 October: U.S. President John F. Kennedy said in a televised speech to the American people they had discovered Soviet missile bases in Cuba. He also says, that a rocket attack from Cuba against any country in the Western Hemisphere to be considered an attack by the Soviets against the United States.
28 October: Cuban missile crisis ends, when Soviet leader Nikita Khrushchev announces that the missiles is removed from Cuba.Mer fakta om Kubakrisen 14-28 oktober:
Background
It is important to know that the reason that the events described above could result in a serious situation not only lays in the events directly connected to the crisis. Ever since the Second World War there had been a cold and tense power struggle between the USSR and the Allies (mainly USA and England, the latter predominantly U.S.) which in the beginning focused on how post-war Europe would be handled. Most significantly, this was in Berlin, which had been East Berlin under Soviet influence and West Berlin during the allied power. Both sides had a large military presence here and began the Cold War, which ultimately led to the proposal which, among other Cuban Missile Crisis and the Vietnam War.

1952 Fulgencio Batista became president in Cuba after a military coup. He had already been president of Cuba during the period 1940-44. Batista was a dictatorial leader and there was zero tolerance for criticism of the state

The Communist Party of Fidel Castro took power in leadership in Cuba in 1959 after an uprising against Fulgenico Batista. U.S. broke in response to this all trade in the country. Ernesto (Che) Guevara by Fidel Castro gained Instead, relations with the Soviet Union and Cuba and the Soviet Union entered into a partnership. Mainly because of this, the U.S. later to implement an invasion attempt by CIA intelligence. It trained Cubans in exile to the military could be used instead of the U.S. military. The invasion took place in the Bay of Pigs, but failed.


The events
American reconnaissance photographed the construction of rocketlaunch ramps. After U.S. attacked Castro he also sought military assistance from the Soviet Union. On October 14th 1962, U.S. reconnaissance planes flew over Cuba and took aerial photographs which showed that the Soviet Union was building bases for nuclear weapons-bearing rockets. If they were completed - the analysis said that some could be ready within two weeks - it would mean that the Soviet Union would have a range of much of the North American continent, which Americans naturally wanted to avoid. USA believed an air strike followed by a second invasion, was an option that was close at hand, but they feared retaliation that could quickly lead to a full-scale war. U.S. believed that the Soviet military intervention would be first countermeasure in Berlin, and the escalation thereafter would quickly lead to a nuclear war. This started a 13 days long diplomatic dispute between the U.S. and the Soviet Union which several times was about to escalate.

Within the U.S. government were the many military officers in high positions who were very supportive of a military intervention and healthy drove in one. But the U.S. president John F. Kennedy chose, after planning with its Security Council, rather than blocking all shipping to Cuba so that Soviet ships could not bring more equipment and complete all the rocket launchers. As a blockade is an act of war decided the U.S., after discussing the matter with the OAS (Organization of American States), that instead of calling the documents for a quarantine. This plan was published together with the fact of Soviet medium distance missiles in Cuba in a live televised speech, the 22nd October and quarantine was to take effect on 24th October. When the Soviet ships that were headed for Cuba reached a "quarantine line" the situation was extremely tense and a war was very close. The Soviet ships turned, however, and returned to Russia.

But the crisis was not over yet. United States believed that some of rocket launchers was already completed so the threat remained. The world political situation was now so tense that any open solution did not exist. But after overtures from the Soviet leader Nikita Khrushchev reached an agreement that the ramps could be demolished if the U.S. promised never to militarily attack Cuba again, and furthermore that they would dismantle their missile sites that was located in Turkey.


The aftermath
In August 1963 were countries in an agreement not to make any nuclear testing in the field, and to prevent future misunderstandings and hasty decision the "hot line-phone" was established between the superpowers.

Although we promised not to attack Cuba militarily again was the relationship between the U.S. and Cuba very cold, which, among other things meant that the U.S. sanctioned Cuba very hard ever since the crisis. In Cuba called the event for the October Crisis. For some analysts considered Cuba-crisis to be one of the reasons why the later Khrushchev was overthrown.
---
NOVEMBER: The American author John Steinbeck is awarded the Nobel Prize in Literature.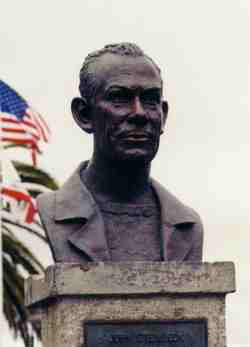 A bust of Steinbeck stands in Monterey, California
More facts about John Ernst Steinbeck:
John Ernst Steinbeck, born 27 February 1902 in Salinas, California, died December 20, 1968 in New York City, New York, was an American writer who won the Nobel Prize in Literature 1962. In Steinbeck's most famous literary accomplishments include the novel Of Mice and Men (1937), Pulitzer Prize-winner The Grapes of Wrath (1940), which both describe workers during the Great Depression. Steinbeck's stories are characterized by the fact that they are based on real historical events and personalities who have to struggle hard to cope with life. Steinbeck's literary style is usually described as naturalism.

Seventeen of Steinbeck's works, including the big celebration (Cannery Row, 1945), Pearl (Pearl, 1947) and East of Eden (East of Eden, 1955), has become Hollywood movies. Steinbeck himself wrote several manuscripts and was nominated for an Oscar for Alfred Hitchcock's movie Lifeboat 1945.

Steinbeck's first novel, Blood and Gold (Cup of Gold, 1929), was a failure. Steinbeck's first success came with the novel Knights of Danny's tables (Tortilla Flat, 1935) which in 1942 became a movie of the same name.

1962 Steinbeck won the Nobel Prize in Literature and the Swedish Academy justify the price through "of his at once realistic and imaginative storytelling, excellent with compassionate humor and social sight". Steinbeck was also critical of the price itself, and suggested that it might make an author lazy. 1964 awarded Steinbeck the United States Medal of Freedom (United States Medal of Freedom) by President Lyndon Johnson.

December 20th 1968 John Steinbeck died in New York, because of heart failure, possibly heart attack.
14 November: The key event this year, at least for my parents.

Here a few months old, the photo probably taken at my baptism..
More fact about the event:
The author and creator of this website, the family's firstborn, Lars Ronny Mikael Friman, comes into the world at Helsingborg hospital.

---
DECEMBER:
6 December: The Swedish Air Force reveals plan for the new aircraft, the Saab 37 Viggen. Air Force Debuts the new war plane "Viggen".
More facts about "Viggen":


Saab JA 37 Viggen

Description
Type Hunting/attack/reconnaissance aircraft
Crew 1 or 2
The first flight in February 8th, 1967
In active service 1972 - 2005
Variants AJ 37, SK 37, SH 37,
SF 37, JA 37
Manufacturer Saab AB, Sweden
General characteristics
Lenght 16,4 m
Span 10,6 m
Height 6 m
Wing Area 46 m2
Empty weight 9,5-12,2 ton
Payload 10,5 ton
Maximum takeoff weight 20 ton
Engine Volvo Engines, RM8B/RM8A
Engine power 13 125 kilopond
Performance
Maximum speed Mach 2,1
Reach at maximum weight 2000 km
Range 2250 km
Maximum altitud 18000 m
Armery
Cannons/guns 30 mm Oerlikon KCA akan
Bombs 120 kg demolition bomb m/71, bomb capsule m/90 Mjölner
Robots Rb 04, Rb 05, Rb 15, Rb 24, Rb 28, Rb 71, Rb 74, Rb 75, Rb 99
Rockets 135 mm attackrocket M70

Saab 37 Viggen was a fighter aircraft designed and developed by Saab AB. The prototype first flew in February 8, 1967 and the first planes were delivered to the dressing 1971. The last flight took place at a closing ceremony with two aircraft from the F 21 Luleå, November 25th 2005.

Viggen was one deltawinged plane with canardwings, which together with the reverse system (able to turn the engine thrust forward) contributed to both start and landing distance could be kept below 500 meters, which was a requirement to take advantage of the Swedish road systems. In the Swedish Air Force attack version was classified as "medium-heavy attack."


Military versions
Viggen was produced in five versions. The design scheme was the:

AJ 37 (Attackversion with secondary hunting capacity), some modified to AJS 37
SK 37 (Schoolversion), some modified to SK 37E
SH 37 (Reconnaissance Sea), some modified to AJSH 37
SF 37 (Reconnaissance Photo), some modified to AJSF 37
JA 37 (Huntingversion with secondary attack capacity)
The Viggen system was taken out of operational service in the Air Force, den November 25th 2005. Total delivered 149 JA37 to the Air Force. Total AJS-modified 86 Viggen, 48 pieces AJ 37, 25 pieces of SH 37 and 13 in SF 37, which resulted in increased hunting and/or attack capability. Additionally modified some SK 37 to a version for electronic warfare, called SK 37E. Finally a number of JA37 went through modification (JA37d) including improved avionics. These aircraft had much in common with the Gripen and combat ability was significantly elevated. Viggen could also, like its predecessor, the J35 Draken, the battle led by text messaging from the battle line (ROSE) was presented to the driver via a control data link. This enabled effective command of the aircraft even in highly disturbed environments telecommunications.

Any attempt to sell export custom Viggen versions outside of Sweden failed why Viggen was used only in Sweden. The sale of fighter jets involves many more parameters than the aircraft's characteristics (eg, political situation, export restrictions and counter-trade deals) and Viggen fell short on some of these.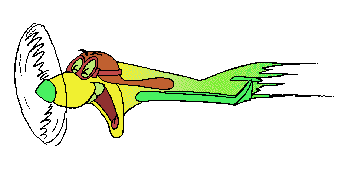 ---

Births of celebrities:

12 January - Gunde Svan, Swedish skiers and TV-presenters
17 January - Jim Carrey, American actor

6 February - Axl Rose, American hard rock singer in Guns N 'Roses
11 February - Sheryl Crow, American rock singer and actress

2 March - Jon Bon Jovi, American hard rock singer

6 April - Robert Wells, Swedish musicians
9 April - Thomas Bodström, Swedish justice minister from 2000 to 2006
21 April - Göran Fritzson, Swedish singer and plays keyboard in Gyllene Tider
29 April - Åsa Domeij, Swedish Green Party politician and agronomist

12 May - Emilio Estevez, American actor
18 May - Nanne Grönvall, Swedish singer

19 June - Paula Abdul, American singer
29 June - Blossom Tainton, Swedish artist

3 July - Tom Cruise, American actor
31 July - Wesley Snipes, American actor

29 August - Rebecca De Mornay, American actress

9 September - Liza Marklund, Swedish journalist and author
11 September - Mauro Scocco, Swedish musicians

3 October - Tommy Lee, American musicians, drummer in Motley Crue.
19 October - Evander Holyfield, American heavyweight boxer

11 November - Demi Moore, American actress and model
19 November - Jodie Foster, American actor and director

14 December - Yvonne Ryding, Swedish fashion model
---
Prostitution (from Latin prostitute, '(public) set out') are the activities where a person for remuneration perform sexual acts for another. Compensation may accrue exporter or the person who arranges activities.

The prostitutes can be either male or female and the customer of the same or opposite sex. Heterosexual female prostitution is probably the most frequent, but all variants exist. Homosexual male prostitution is widespread. Heterosexual male prostitution are less common and also homosexual female prostitution. Female sex buyers are therefore still a minority, but according to some studies, the fastest growing global customer base, this is seen by some as one of equality downside.


Prostitution today
Today marked the development of the West of two directions in relation to prostitution: in some countries accepted prostitution as something natural and it focus on creating the conditions for decent conditions for those employed in the industry, examples of such countries are Great Britain, Netherlands, Germany and Switzerland. In other countries seeking to eradicate prostitution, leading to a severely restrictive approach. Sweden can be classed in this category, and as part of efforts to combat prostitution criminalized the buying of sexual services in 1999. For many years, it is criminalized in organizing prostitution or to provide a local framework.


History
Society has historically had a changing attitude towards prostitution. In some cultures, it existed openly, while others have tried to hide it.

In Rome during the republic time a register was made over the prostitutes. In compliance with certain provisions regarding the dress, housing, etc. received the right to operate an "occupation" (Licentiate stupri). Cycle of these women was managed by Edile. These provisions became legalized prostitution. To be entered in the Register explained lead infamous for always, but in reality it did not work that way.

Even in the religious cult there was prostitution. Traces of the so-called religious prostitution are found in many people. Familiar is Herodotus description of Mylittakulten the Babylonians (see Astarte). The origin is the phenomenon of completely different nature than the usual prostitution, but gradually obliterated this limit.
Early Christianity had a very negative attitude towards human sexuality in general and it was even prostitution. After the invasions came the influence of the old Germanic law, which generally punished so-called adulterous sexual intercourse outside of marriage.

Eventually the society become more tolerant. Church Doctrine condemned while still fornication outside of marriage and established the complete abstinence as an ideal even in marriage. But in practice it was not so fussy. In cities arose so-called women's shelters. The fragile living women organized themselves in many places in conformity with the guild system, and neither spiritual or secular authorities withdrew to the charges benefit from their earnings.

In the modern times occurred again another way to look at prostitution. Over Europe the Reformation was spreading, as against the old church doctrine claimed a more healthy view of sex-life phenomena and also put greater demands on the individual's moral character. At this period also coincided with a sudden outbreak of syphilis, which quickly spread over much of the continent, employing serious ravages among the fragile living women and their male, married or unmarried clients. Women's houses were now in disrepute as being not only the cargo to the hold, but also dangerous outbreaks.

Although there were persecution of the women in prostitution, though not with the atrocities that characterized the previous era. The movement lasted until the early 1700s. Especially famous is the strict measures against prostitution, which was launched in France under Louis XIV's last reign. In Austria, was taken by the Empress Maria Theresia 1751-1769 similar measures. Traces of this movement one finds a long time in several jurisdictions, including in Sweden's criminal code, which the 1734 Act included the provision of punishment for those who "keep such houses, where sexual immorality exist".

At the end of the 1700s it has returned to the knowledge of criminal actions impotence. It began to consider prostitution as a "necessary evil", the most severe handicaps, it was more limited. The old Roman enrollment system came back to honor, next in order to allow a sanitary control over the women in prostitution. Over the course of the 1800s were introduced in one country after another, the "Regulations of the ring, and prostitution discussion of the matter came to be associated with the battle between supporters and opponents of this system. The idea behind the regulations ring of prostitutes are women in Sweden was to stop the spread of STDs. In some cities where there was a lot of young men, such as student centers or where there were regiments, it was especially make an effort. Then the women prostitutes were considered guilty of proliferation, was booked and registered women in some places in Sweden by the police and taken in for investigation, so-called survey once a week. With this confirmed their identity as prostitutes when they were stripped of their birth certificate is needed when you could leave the city and instead presented an book where the investigations were recorded. Proponents of regulation used the argument that women were needed to protect the chaste women who were in town from the young men, who could not control his libido. Regulated ring of the women in prostitution can be said to be definitively repealed in the Lex Veneris 1918.


Debate
Sex workers demonstrating for legalization of prostitution. Movements that actively combats prostitution among other religious movements, conservative and radical feminism. Many other movements regarded prostitution as a symptom of an unequal society, but advocates the legalization of the sex worker best. In the Swedish debate, Petra Östergren been particularly prominent in the early 2000.

Ban in Sweden
Sweden banned the purchase of casual sexual relations for value, the January 1st 1999 by the so-called "Sex Purchase Law, which Ulrica Messing pushed forward. The law was incorporated into the Criminal Code with effect from April 1st 2005. The penalty is a fine or imprisonment not exceeding six months.

The motivation is to study sex trade (SOU 1995:15), however, suggested that the criminalization of both buying and selling. The study focused mainly on heterosexual relations, then homosexual relationships apparently considered less problematic. In this study, the female prostitutes are often drug and alcohol users and, increasingly, mental disorders, although knowledge of the sellers in the sex trade is largely restricted to the women of the visible prostitution on the street. They've got a bad start in life, early deprived of their self respect and got a negative self-image. The men who are buyers are different in terms of attitudes to sexuality and women, sometimes with serious problems in the perception of and attitudes to sexuality. Prostitution contacts involves sexual expression, without a relationship, proximity, or demands, as opposed to genuine human contact. Probably, many of the men need treatment. Prostitution is also harmful to social morality: That men may purchase access to the female sex to satisfy their own sexual needs, contrary to the perception of all people are equal and the path towards full equality between women and men. Sex Trafficking conveys an unacceptable human beings and is an obstacle to individual development. The investigation is guided by the idea that there are authorities to the legislative and other measures affecting people's behavior toward healthy ideals, or social engineering.

Also banning the sale of sexual relations has been proposed in parliament. The reasoning is that the law is ineffective against prostitution only if purchases are illegal, the sale of sexual services involves active participation in such activity, and that in the current situation can tax income derived from prostitution, so that authorities can benefit from an illegal activity.
---